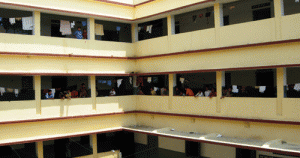 "Sandipani Ashram", a residential campus and an integrated part of Saraswati Shishu Vidya Mandir, Dhurwa, Ranchi an English Co-educational Senior Secondary School, affiliated to CBSE, Delhi, managed by Shishu Vikash Mandir Samiti (Jharkhand), Dhurwa, Ranchi-4, was established on 30th September 1987, with specific aims by Shradhyey Bhau Rao Deoras (Sanrakshak Vidya Bharti).  It is named after great Saint Maharshi Sandipani, the great teacher of Lord Krishna and poor Sudama.  It is an attempt to develop India's life values according to their customs and traditions.  Many great social workers and educationists laid school's foundations.
Hostel (namely Sandipani Ashram) is available for the students of class IV – X. Admission in Hostel is given only in class IV, V to VIII as per the vacancy. Detailed information can be obtained from the hostel office. Hostel is inside the school premises.
SPECIAL FEATURES
Recognised by CBSE, NCERT Syllabus (Both Hindi and English medium)

Trained and experienced faculty

Games and sports training is essential

Playground for different games with a track of 200mts

A library consists of a lat of books, reading room and departmental library with a book bank

Computer lab

Well equipped Science and Maths Lab.

Big, neat and clean kitchen

Pure vegetarian meal is provided according to a menu for a week

A well managed Cow-Shed for 20 cows

Generator and UPS facility for emergency

Tutorial classes for the two hours run in the evening except Sunday

Comfortable Guest House for the parents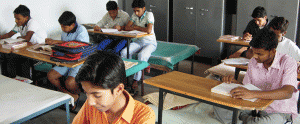 CO-CURRICULAR ACTIVITIES
To ensure the overall development of the boarders, different competitions as quiz contest, poem-recitation, devotional songs, patriot songs, speech delivering, debate, writing, drawing, music are organized time to time by the hostel.  Students do Yoga practise daily and go to Shakha regularly..
For physical education volleyball, football, handball, table tennis, badminton, kabadi, kho-kho etc competitions are held by the hostel.  NCC and Ghosh (Band) facility available.  Educational tours, Desh Darshan Yatras are conducted to develop self discipline, responsibility awareness and feeling of leadership among students.  Quartly magazine "Sandipani Ashram Sandesh" (proposed) to express student's thoughts.
ADMISSION CRITERIA
Admission for VI to VII classes only.

Entrance exams (written and oral test) held in January and February (expected).

Written exams consists of 4 papers – Hindi, English, Natural Science and Mathematics of 25 marks each and to be solved within 1 hour.

Prospectus, syllabus and application form for admission can be obtained on cash payment.  D.D. should be in favour of Sandipani Ashram payable at Ranchi (Jharkhand).
DOCUMENTS REQUIRED
The following documents are to be submitted in original at the time of admission –
Transfer Certificate from the previous school.

Birth Certificate from the proper authority.

Blood Group Certificate

Physical Fitness Certificate by Registered Medical Practitioner.
MEMBERS OF HOSTEL MANAGEMENT COMMITTEE
Sri Nawal Kishore Singh – Director
Sri Pramod Kumar Singh
Sri Krishna Oraon
Sri Yogeshwar Dubey